Quotes Version 1.0 Guide The basics of using Quotes Dominique Tuck
If you are using our Quotes Version 2.0, please check out this guide.
Our powerful quote tool allows organisations to control and distribute their pricing in their day-to-day workflows. Quotes is the perfect companion to Virtual Assist, Catalog and Pulse, as you can complete whole project workflows seamlessly and efficiently.
As this module is dynamic, the information required to fill a quote will be unique to you and your business, so get in touch with your manager if you need help filling the data.
Creating A Quote
You can create a quote from scratch by clicking on "Create Quote"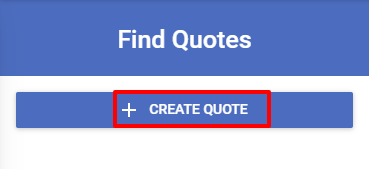 Complete Quotes vs Quotes in Progress
From your main window in Quotes, you can quickly see which quotes are still in progress versus which are complete by using the symbols on the right hand side of the page.


Eye Icon: Submitted quote, click on the eye to view
Pencil Icon: Quote still in progress, click on pencil to continue editing.
Actions
In the top right hand corner of your Quotes page, you will see three action items:

Save Draft
You can save the quote as a draft if you need to before submitting to your database. Please note that we won't save your Quote if there are required fields missing.
PDF Report
Download all quote information to a PDF file and save to your computer hard-drive.
Main, Notes and Config Headers
At the top of your page, you'll notice that there are three headers: "Main", "Notes", and "Config". We'll underline each header with an orange line if you have that header selected.

Main: This page covers the key information needed to finish the quote, including quote type, reference numbers, title, line items and the recipient information.



Notes: This is a free text space for the user to note any additional comments. The comments will be generated on the PDF Report.


Config: This page will cover off your company information associated with the Quote, so please make sure that you fill this page with your company information, not personal data. The check-boxes on the right hand side of the page will allow you to select what information you'd like to be displayed when generating the PDF report.

Adding Line Items
To get started with adding line items to your Quote, simply hit the "Add Group" button on the bottom right hand corner of the page:

This will open a new window that will give you the ability to select bundles; bundles are groups of line items that are predetermined by the Catalog tool, and usually cover typical line items per repair methodology. In the example below, we've selected a bundle that covers a flooded kitchen repair.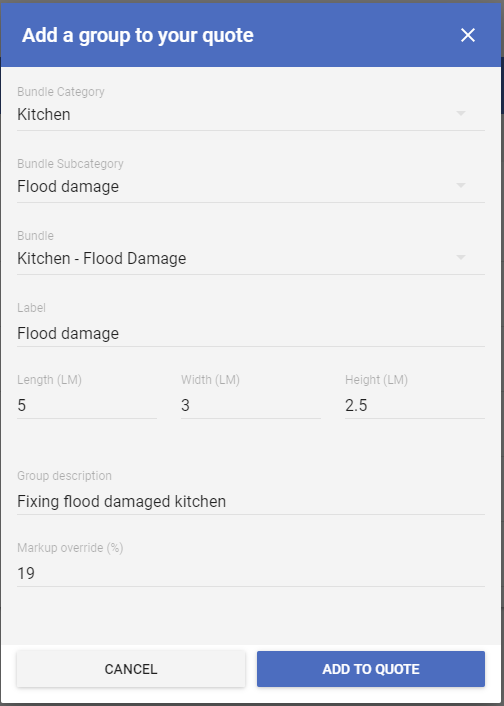 Selecting this bundle will automatically load some line items that this account would quote for this type of work:

Once these line items have been added, the user can edit, add or delete line items at their own discretion.
Note: If you as a user can't edit certain fields, there is a chance that these fields have been "locked" for editing by the Catalog administrator. Please contact this person directly to speak about options for editing this information.
Want to add a new line item that doesn't exist in Catalog?
You can do this! Please note that this line item will not be saved to the Catalog, and is meant to be a once-off on your Quote. If you're frequently adding the same line item to your Quotes, it's best to talk to your Catalog administrator about saving this line item in Catalog.

Submitting the Quote to External Systems
Once you've completed the quote, you will need to click on "Submit Final"; this will do two things:
a) Run a quick check on required fields. If there are missing fields, we'll let you know.
b) Close the quote for editing. Please make sure that you are happy with every detail on the report first, as you will not be able to edit it moving forward once you hit "submit."
Once you've finalised your quote download the PDF report and attach the PDF as an attachment to the assessment for the job in Pulse. Check the box for "Publish Externally" to send the report to your external system. If you don't have an external system connected to Unity yet, please send us a message to talk more about your requirements at support@codafication.com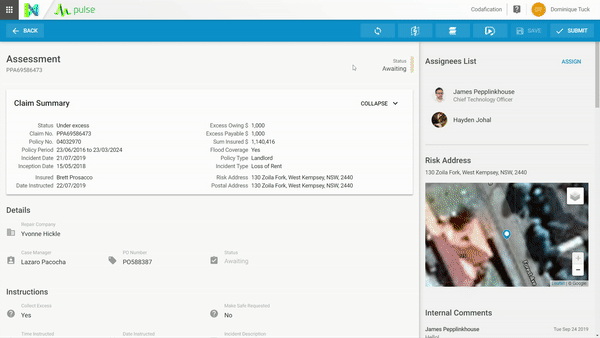 Run into trouble? Send us a message at support@codafication.com
Did this answer your question?