Learn how to create users, tenants and permissions for your company.
Our tool "Admin Portal" allows you to manage users and their access within the Unity platform. To get started, click on the square grid in the top left corner of your page and select the icon with cog wheels labelled "Admin".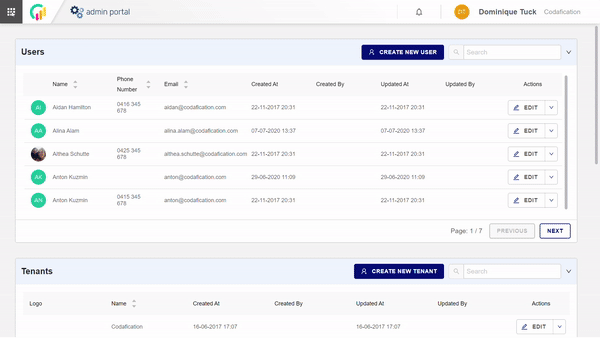 If you can't see Admin Portal but would like to have access, please contact your manager to discuss. Read on for a breakdown of each capability!
Users: Are the people you need to be logging in and using the software.
Tenants: Can be separate departments, companies or branches that all use the software, but may have different objectives or use cases. Using tenants is also a great way to separate and maintain data per department.
Roles: Roles are how we manage a user's permission within your cloud, which can include module visibility, or tenancy visibility. For example, if you have three locations for your business set up as three tenants in your cloud, you need to create a role for each tenant.


Example: I own a cleaning and maintenance franchise, and I use Virtual Assist to do virtual quotes on prospective new customers, or investigate complaints. I also use the quotes module for my QLD sales team. I have branches for my company in three states: Generic Cleaning Company QLD, Generic Cleaning Company NSW, and Generic Cleaning Company VIC. There's also two branches in the NSW region; we'll call them "Branch A" and "Branch B" for now.
I want each branch to have it's own portal for Virtual Assist and Quotes, so my employees don't get confused by seeing data from other branches.
This means I should create three tenants for each branch.
So what roles do I need to create?
Generic Cleaning Company QLD - Virtual Assist

Generic Cleaning Company QLD - Quotes

Generic Cleaning Company NSW Branch A - Virtual Assist

Generic Cleaning Company NSW Branch B - Virtual Assist

Generic Cleaning Company VIC - Virtual Assist
For each employee at each branch that needs to use Virtual Assist, I can now add their respective location role to their profile, and also the Quotes tool to my sales employees in Queensland.
I also have a regional manager who needs to manage both stores in NSW - in this case, I need to apply both Branch A, and Branch B for NSW to my regional manager.
Adding Users
To add an individual user, click on the blue button for "Create New User" from the main page.
Personal Details
Fill out the fields as needed, such as name, email and phone number. We've marked the required fields for creating a contact with a red Asterix.
User ID gets automatically generated once the profile is created.
What's the Avatar URL and how do I use it?
We use the "Avatar URL" method for uploading your images. A URL is a unique link that directs a user or a system back to a public webpage - so in this case, the Avatar URL field needs to be filled with a link that will direct our system to the an image of the user. This means that you need to have the image uploaded to another website or server that is publicly accessible.
There's many different websites that will host images for you. Here's a few we like:
Once you choose an image hosting site, you need to:
Upload your assistant images.

Right click on the URL for each image to "copy".

Go to the "Avatar URL" section for each profile and "paste" the URL in.
What if my company uses Active Directory?
If your users have been added via Active Directory, please ask your system administrator for help with adding users or editing their details.
Adding Tenants
Just click on the "Create a New Tenant" button to get started. We will need some basic contact details so we can display your company contact details where applicable in the modules.
You will need to upload the URL for your company with the same method that you used for uploading assistant images.
Terms and Conditions can be left blank if you're happy with using the standard Virtual Assist T&C's.
Adding Roles
Click on "Create New Role" to start. You'll need to make sure that you are electing a tenant for the role; please note, you can only select one tenant per role.
Permissions make up what the role will be able to see and action within Crunchwork. If you have any questions about the permissions, feel free to reach out to the Customer Success Team.