Gain control over the line items your team regularly uses and price accurately with Catalogue.
Catalogue is the easiest and best way to have a single central location for storing and managing your line items, then distributing these for use in the Quotes and Purchase Orders modules.
Items
In Catalogue, "Items" refers to each individual item in your inventory. Typical use for items can include materials, or defining a type of labour. For example, the item below is being used to quote the hourly rate for the labour of a plasterer:

Creating an Item
Click on "Create Item" from the left hand side of your page.

You may notice that some fields have a drop-down selection, see the following types that you can apply to line items:


Type: Labour, material, other
Mark-up Type: Absolute or percentage
Unit Type: Hour, each, M2 or LM
PC/PS: Prime Cost, or provisional sum
Once you've defined these fields, you can then move on to the Zone Configuration.
Zone Configuration
Once you've created your items, you can move on to specifying unit cost, markup, and tax per zone.
Default Configuration: This will be the benchmark for all zones. Use the padlocks to define which fields can be edited by other users when quoting.


Buy Cost: Is the cost that you
Unit Cost: Is the cost that it actually costs to manufacture the unit, or purchase from a vendor. This is the cost that will be
Adding Zones
Some line items may differ based on the location of work, so we've made it easy for you to apply zones to your line items. Just click on the orange "Add Zones" button to define your zones and follow the prompts.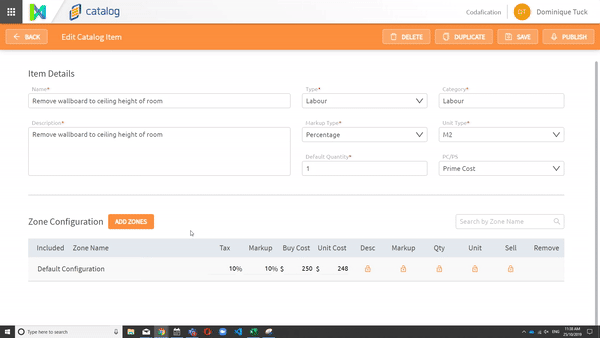 Creating Your Item and Publishing
Once you've completed your item, use the "Create" button in the top right hand corner of the page. The panel will change to give you some extra options:

When you're ready for the item to be used, you can use the button "Publish" to make the line item available for users to quote.
When making changes, don't forget to hit "Save".
Catalogue Combos
Combos are a great way to consolidate multiple line items for both material and labour under one single line item. For example, if you'd like to have one line item for say "Paint internal walls", you can combine one line item for the cost of paint, and then a second line item for the labour involved.
Catalogue Bundles
In a similar fashion to Combos, you can group common procedures into a "Bundle" for quick application of common procedures on your quotes. Bundles allow the user to add "Combos", so this will streamline adding line items and repair methodologies to your quote even more.


To view your bundles, just use the panel on the left hand side of the page to switch your view from "Items" to "Bundle". We'll highlight the text in white so you can see easily which tab is selected.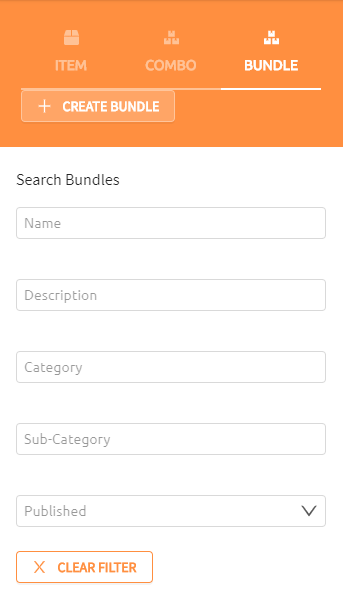 Let's take a closer look at what creating a Catalogue bundle looks like. In the example below, we've created a bundle for repairing a bathroom vanity.

Bundle Category:
You can use this field to give your bundle an overall umbrella, such as "Bathroom" This will then link the bundle along with any other bundles that are categorised under bathroom.
Bundle Sub-Category:
The sub-category is intended to give the bundle an extra layer of specific detail. Taking the previous example of "Bathroom", we could build on the specificity and sub-categorise the bundle with "Bathroom repair" to help narrow down your options when searching for bathroom repair related bundles.
Adding Items to Your Bundle
See below how to add items to your bundle. Don't forget to hit save once you're done!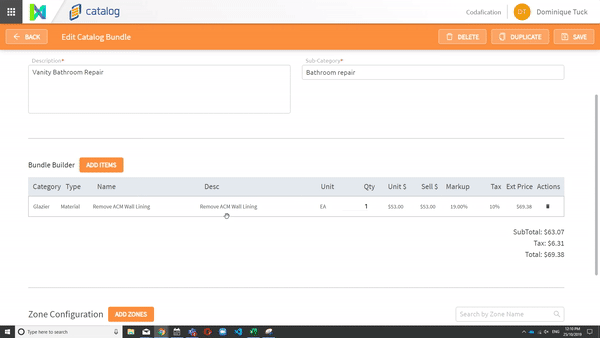 Remember, you can add or remove items to a bundle after applying it to your quote.
Let's take a quick look at applying our Vanity repair bundle to a Quote: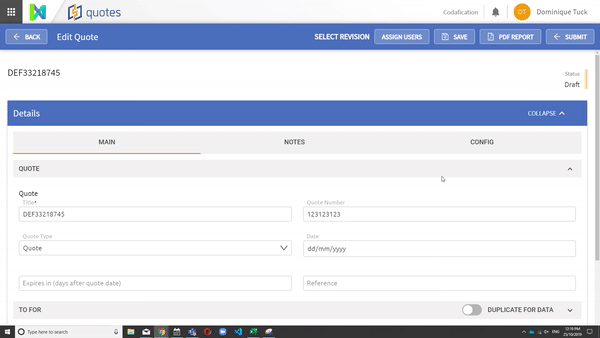 Ready to start quoting? You can check out our Quotes 101 Guide here.